Web Design Layouts
There is no shape or size limit for a website layout. However, over the years we have developed guidelines to assist our customers build customer appealing and functional websites. You will find three (3) important areas on all websites. These areas are classified as: (1) Top Content Block, (2) Body Content Block and (3) Bottom Content Block. Each of these content blocks can include different elements for your customers.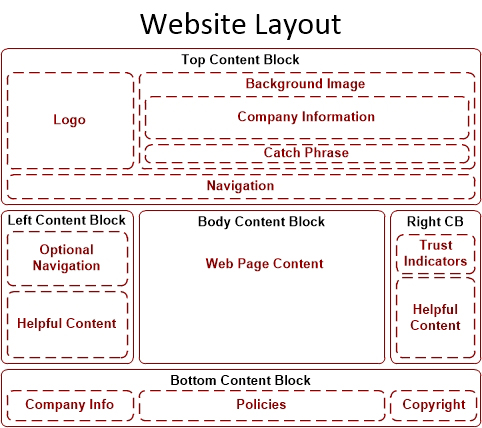 Top Content Block


The top content block is the first contact with your customer. This area tells customers what your website is about and how to navigate around your website. This area should contain the following elements:
Company Logo

Company Information

Background Image

Navigation

Optional

Catch Phrase

Search Engine
Body Content Block


The body content block contains the specific details of each web page. The body content block can also include images, videos, products and any other information to assist for the customer. Optionally, the body content block can include additional content blocks. The optional content blocks can include sub-navigation, helpful content (links, social media, etc.) and trust indicators (references).
Web Page Content

Optional

Images

Videos

Optional Content Blocks

Navigation

Helpful Content

Trust Indicators
Bottom Content Block


The bottom content block will contain links to company information, contact pages and legal pages for your website. Legal pages should include terms and conditions, a privacy policy and security policies. Depending on the theme of your website, the bottom content block can also show links to social media other accounts.
Company Information

Policies

Copyright

Optional